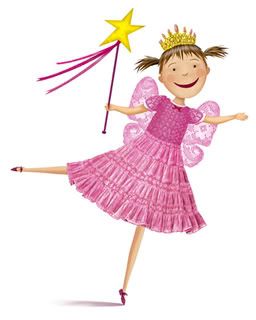 A little inspiration from "Pinkalicious" - one of my kids' favorite books.

It's always tough to get out of the door in the morning between the hugs and kisses of kids to the reminding your husband about one thing or another (or he you). You know it's gonna be a rough day when you realize the dry cleaned shirt you thought was clean is not....and you've already left the house.

As I was frantically driving to work, I smelled something a little funky, not terrible, just a little off - but familiar. I looked down around me and on my black shirt was a small (dime size) of baby spit-up tactfully hidden in a crease on the shirt. As a problem solver by nature (and necessity) I grab a towel on the passenger seat and a bottle of water in my console. I'm sure I can dab this clean at stop lights before the train station. Just when I thought I had it, I dumped the water down my shirt and all into the crotch of my pants. By the time I made it to the train station, I still smelled like baby spit-up, I was failing miserably at a wet t-shirt contest and I looked like I pee'd my pants. Needless to say, the rest of the day followed suit. Happy Tuesday people; here's to a better Wednesday!